Ladder Assemblies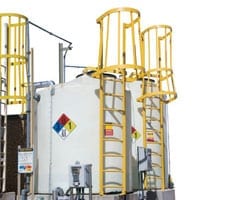 Poly Processing's tank ladders are available in heights from 6 to 20 feet, depending on the tank application. To determine height, ladder height equals height to top of manway rounded to the nearest foot. If height of ladder exceeds the height of the manway, subtract 1 foot.
Ladders are available in mild steel as well as FRP construction.
All ladders meet OSHA requirements.
Ladders are not offered on all tanks due to safety requirements. Approved systems are noted with the appropriate ladder height in the distributor price list.
Cages range from 7 to 8 feet and extend 4 feet above the top rung of the ladder.
Tanks with a center manway will have the additional cost of a platform to reach the ladder.
Drawings