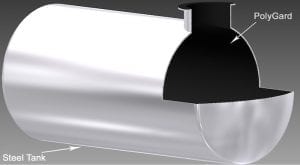 Use PolyGard™ for lining steel vessels for increased performance and better chemical storage solutions.
Extremely durable, chemically-resistant, corrosion-resistant, and greater longevity than competitive technologies. Bonded to stainless steel or carbon steel vessels.
Benefits of PolyGard™
Peace of Mind

The structural integrity of steel plus the chemical & corrosion resistance of polyethylene

Environmental Care

Guards against costly spills and damage to the environment, especially off-shore

Leveraged Investment

Longer product life cycle versus Tnemec, Phenolic or Rubber "Spray-In" liners
0.25″ nominal thickness versus 0.06″ thickness for "spray-in" liners
Multi-use service applications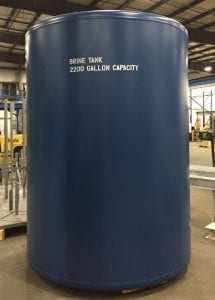 The PolyGard™ system is ideal for:
Storage vessels used in the gas and oil industry, where high-pressure and high-temperature substances are common
Roll-off tanks for oilfield services
Offshore vessels, Coast Guard-approved vessels and construction sites, to mitigate the risk of spills that could cause serious ecological damage
D.O.T.-approved tanker trailers
Lining of IBC's – Intermediate Bulk Containers
The lining of pipes with larger diameters, to help maintain the integrity of the steel pipe
How It Works
Bring your steel tank or vessel to Poly Processing, or contact us to discuss your specific needs.

We'll use our proprietary rotational molding process to ionically bond the PolyGard™ system to the steel, creating a homogenous and consistent product. The robust, seamless lining system will prevent highly oxidizing chemicals such as sulfuric acid, hydrochloric acid, ammonia, and other compounds from attacking the steel surface, greatly extending the life of the tank.
Learn More About PolyGard
PolyGard™ Brochure
PolyGard™ Specification
Letter of Understanding and Warranty
PolyGard™ General Information