Seismic Restraints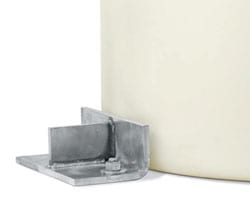 Used to protect against seismic events, these clip systems are available for location- and site-specific information areas.
PE wet stamps will be provided by request for a fee. Contact Poly Processing's customer support staff.
If the tank will be placed on a concrete pad, it is critical to allow at least 12 inches of space between the tanks and the edge of the pad to accommodate the proper anchoring of the clips.
For all other design considerations, please contact our customer support team and ask to talk to our engineering department.
Drawings – The seismic drawings below are examples of Poly Processings seismic systems. Your seismic system and drawing may differ based on tank size and installation location.