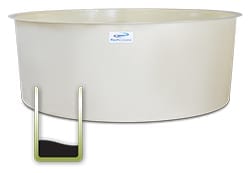 Open-to tanks are process-oriented tanks that are typically used for blending or for containment. These tanks often incorporate the use of mixer bridges and make an ideal solution for applications that require mixing, blending, or brining.
A hinged lid can also be installed on the top, and the open-top solution gives you greater access to the tank. Open-top tanks also provide ease of access to dry materials because you do not have to pour the contents into the tank through a manway.
Learn more about open-top tanks in our comprehensive tank guide:
Specifications
Open-Top Tanks
Freight:
Choose the factory closest to you for the best freight rates. If a tank from a more distant factory is required for volume or dimensions, we may be able to equalize freight to make it the same as another choice. We have trucks that go between factories and other arrangements. Please inquire through your salesperson for details.
Columns in the table below with arrows in the heading can be sorted by clicking the arrows.