SAFE-Surge® Manway Cover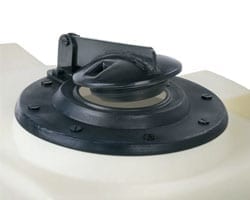 Designed specifically for pneumatic-filled tanks. Releases at a 6-inch water column to prevent over-pressurization, ensuring that the tank maintains proper ACFM at all times – even in the event of air surges that cannot be handled by primary venting. Available in 19 and 24 inches.
Download SAFE-Surge® literature
For detailed venting requirements, please refer to the Venting Requirements for Poly Tanks chart.
Drawings
Safe-Surge® Manway Provides Greater Level of Safety