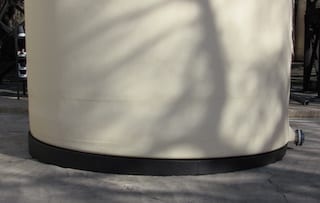 NOTE: While this page is dedicated primarily to the new Polyurethane PolyBase, Poly Processing continues to manufacture and ship crosslink PolyBases as well.
One of our newer innovations, the PolyBase platform for our Sloped Bottom Vertical Tanks with IMFO® is a stronger-than-ever chemical tank pad that's engineered to handle more pressure and larger tanks.
Our new PolyBase supports a broader spectrum of chemical storage applications and outperforms our previous line.
Polyurethane PolyBase Advantages
Rated at 48 psi for taller or larger tanks
Fully encapsulated with a moisture impermeable and chemical resistant barrier which eliminates corrosive properties that can lead to CUI or corrosion under insulation
Portable installation – doesn't require constructing a permanent structure
Cost-effective – save money over permanent concrete structures that require earthwork, engineering and costly concrete work
Seamless design ensures that the entire tank bottom is fully supported.
Additional Resources
Documents
Products