SAFE-Tank® Double Wall Tank System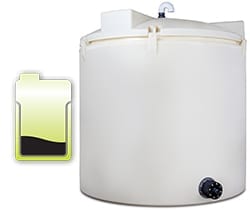 Our innovative SAFE-Tank® double wall storage and containment system, the "tank within a tank", provides customers with a leveraged investment that offers peace of mind and environmental care. Our high density crosslinked polyethylene SAFE-Tank® double wall system alleviates the need to build large, high-maintenance concrete containment areas. In the event of a spill, the SAFE-Tank® double wall system's all-in-one design features a protected containment area that will safely isolate reactive chemicals, protect your employees from harm, and protect you from environmental remediation, all within the footprint of a standard vertical tank.
Available with the OR-1000 system
Learn about the bellows transition fitting
Small SAFE-Tank® pocket fitting drawing
SAFE-Tank® and Transition Fitting Installation Videos
Advantages of the SAFE-Tank® double wall tank system
Provides 110% secondary containment.
Will equalize the liquid and allow the chemical to be continually used until it is convenient to repair the tank.
Is ideal for chemicals like sulfuric acid that can have dangerous exothermic reactions to water.
Eliminates the expense, cost and maintenance of secondary concrete containment.
Minimizes the system's footprint by providing secondary containment in a more compact way.
Adding a bellows transition fitting will maximize your SAFE-Tank® system's performance.
For additional information, check out our comprehensive Secondary Containment Guide or download the SAFE-TANK® double wall product guide.
Documents
From Our Blog
Read these articles for more information on our SAFE-Tank® double wall storage and containment system:
Specifications
SAFE-Tank®
Freight:
Choose the factory closest to you for the best freight rates. If a tank from a more distant factory is required for volume or dimensions, we may be able to equalize freight to make it the same as another choice. We have trucks that go between factories and other arrangements. Please inquire through your salesperson for details.
NOTE: To view these files, you can use the 3D CAD Viewer or PDF viewer.
Columns in the table below with arrows in the heading can be sorted by clicking the arrows.
Lugs
Drawings
Gal. Per Inch Chart
Stock Number
F.O.B.
Nominal Cap.
Approx. O.D.
Approx Height
Lid Size
Ladder Height
Tank Weight
L
•
2D CAD 2D PDF 3D CAD
PDF
Assembly
LA
8700
11'-11"
14'-10 1/2"
24"
15'
5400
2D PDF
2008700
LA
2800
2D PDF
2110150
LA
2600
L
•
2D CAD 2D PDF 3D CAD
PDF
Assembly
LA, CA
6650
10'-2"
14'-9 1/2"
24"
15'
4400
2D PDF
2006650
LA, CA
2300
2D PDF
2107450
LA, VA
2100
L
•
2D CAD 2D PDF 3D CAD
PDF
Assembly
LA
5400
11'-11"
10'-1/2"
24"
10'
2750
2D PDF
2005400
LA
1400
2D PDF
2106300
LA
1350
L
•
2D CAD 2D PDF 3D CAD
PDF
Assembly
VA
4400
10'-3"
10'-4 1/4"
24"
10'
2250
2D PDF
2004400
VA
1050
2D PDF
2104950
VA
1200
2D CAD 2D PDF 3D CAD
PDF
Assembly
CA
4350
10'-3"
10'-4 1/4"
24"
10'
2125
2D PDF
2004350
CA
1225
2D PDF
2104950
CA
900
L
•
2D CAD 2D PDF 3D CAD
PDF
Assembly
LA
3150
10'-2"
8'-1 1/2"
24"
8'
1960
2D PDF
2003150
LA
980
2D PDF
2103550
LA
980
L
•
2D CAD 2D PDF 3D CAD
PDF
Assembly
LA
2500
8'-0"
10'-5 3/4"
17"
10'
1300
2D PDF
2002500
LA
650
2D PDF
2103100
LA
650
•
2D CAD 2D PDF 3D CAD
PDF
Assembly
VA
1550
8'-0"
7'-5 3/4"
17"
7'
800
2D CAD 2D PDF
2001550
VA
400
2D PDF
2101950
VA
400
2D CAD 2D PDF 3D CAD
PDF
Assembly
CA
1015
6'-5"
7'-1/2"
17"
7'
490
2D PDF
2001015
CA
250
2D PDF
2101200
CA
240
•
2D CAD 2D PDF 3D CAD
PDF
Assembly
VA
1000
6'-5"
7'-1"
17"
7'
490
2D PDF
2001000
VA
250
2D PDF
2101200
VA
240
•
2D CAD 2D PDF 3D CAD
PDF
Assembly
VA, CA
750
5'-0"
8'-2 1/2"
17"
6'
400
2D PDF
2000750
VA, CA
200
2D PDF
2100940
VA, CA
200
•
2D CAD 2D PDF 3D CAD
PDF
Assembly
LA
540
6'-5"
4'-5 3/4"
17"
360
2D PDF
2000540
LA
185
2D PDF
2100655
LA
180
2D CAD 2D PDF 3D CAD
PDF
Assembly
VA, CA
405
4'-0"
6'-1/2"
7"
280
2D CAD 2D PDF 3D CAD
PDF
Assembly
VA, CA
250
3'-11"
4'-5 1/4"
7"
200
2D CAD 2D PDF 3D CAD
PDF
Assembly
LA, VA, CA
160
3'-0"
5'-3"
7"
150
2D CAD 2D PDF 3D CAD
PDF
Assembly
LA, VA, CA
105
3'-0"
3'-10 3/4"
7"
100
2D CAD 2D PDF 3D CAD
PDF
Assembly
LA, VA
55
3'-0"
2'-8"
7"
80

• = Molded-in lifting lugs

L = Molded-in ladder attachment lugs

Weights are approximate for shipping estimates only.

55 SAFE-Tank through 405 SAFE-Tank primary and containment tank drawings are included as part of the Assembly Drawing
SAFE-Tank® ENHANCED BELLOWS TRANSITION FITTINGS WITH PTFE FLEXIJOINT® FITTING
SS BOLTS
TITANIUM BOLTS
C-276 BOLTS
SIZE
EPDM
VITON
EPDM
VITON
EPDM
VITON
2″
9752
9755
9753
9756
9754
9757
3″
9758
9761
9759
9762
9760
9763
SAFE-Tank® Leak Detection Devices
SENSOR TYPE
PP
PFA*
Optical
7469
7470
Ultrasonic
7460
7461
*PFA (PFA Teflon) offers superior stress and crack resistance
CONTROL BOX STAND
Stock # 7589