A simple design for better leak protection
With its streamlined one-piece design, the B.O.S.S. Fitting® (bolted one-piece sure seal) reduces the seal point to a single gasket to greatly reduce chances for leakage.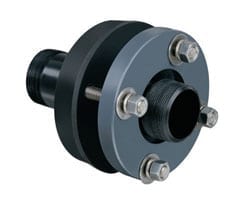 This unique fitting:
Is constructed of polyethylene for chemical compatibility with your tank.
Has an innovative backing ring design to reduce stress on the fitting and make it three times stronger than plastic fittings.
Is easy to maintain, since the pipe connection is extended beyond the sidewall of the tank.
Is available in 1, 2 and 3 inches I.D. with PVC or CPVC socket connection.
The B.O.S.S. Fitting® is available in three alloy options: 316 stainless steel, titanium and C-276. It comes fully assembled and pressure tested, and it can be installed through the tank wall as with any other standard bulkhead fitting. Learn more about the B.O.S.S. Fitting® under Fittings & Accessories.