SAFE-Tank® Double Wall Tank System
A complete double wall system for secondary containment
Poly Processing's SAFE-Tank®, double wall tank system, is a "tank-within-a-tank" that provides secondary containment to avoid the damaging of equipment or property, loss of chemical, or injury to employees in the event of a spill. The tank is designed to keep contaminants from entering the interstitial space.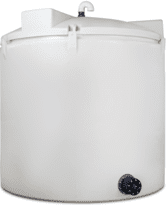 The SAFE-Tank® Double Wall Tank System
Provides at least 110% secondary containment.
Will equalize the liquid and allow the chemical to be used until it is convenient to repair the tank.
Is ideal for chemicals like sulfuric acid that can have dangerous exothermic reactions to water.
Eliminates the expense, cost and maintenance of secondary concrete containment.
Minimizes the system's footprint by providing secondary containment in a more compact way.
Adding a bellows transition fitting will maximize your SAFE-Tank® system's performance.
SAFE-Tank® double wall tank systems are also available with the OR-1000™System for superior antioxidant resistance.
Click here to go to our SAFE-Tank offering page
For more information on SAFE-Tank®, download the SAFE-Tank® Guide and the eBook, Choosing the Right Secondary Containment System, below.
From Our Blog
Read these articles for more information on our SAFE-Tank® storage and containment system:
SAFE-Tank Installation Videos
Watch these videos for more information on our SAFE-Tank® installation instructions: